Managed Automation Services

Too many applications, no coordination between IT systems, too difficult to get at the data you want into the places that need it.  We hear this all the time.  At NMSaaS we have developed a much simpler way for organizations to automate and control access to their critical business data, in real time, without spending a fortune on custom development.  We call this:

NMLinK:
Your Integration & Automation Hub


NMLinK is a software overlay on top of your existing systems which provides your end users with a simple, consistent orchestration engine which controls the flow of data between "Linked" systems.
NMLinK is architected so that almost any underlying system can be "plugged in" to our front end.  We orchestrate, aggregate, optimize and publish that data using modern interfaces.
NMLinK supports data linking for both cloud and on premise solutions.  All of our application Links are centrally managed and controlled visually within our platform for ease of use and maintenance.
And the best part is, all of your NMLinK automations will be fully managed by NMSaaS.  That means no more worry about what happens when something breaks, or who to call when code needs to be updated.  We take care of everything!

Our NMLinK Architecture
NMLinK is developed on top of the Microsoft Power Platform and Azure.  This allows us to very rapidly code and deploy customized solutions for our clients.   All "Links" are based on API access to NMSaaS, Service Desks, other IT Monitoring systems and even "homegrown" applications.   We then bring all of that data together into our managed orchestration engine.  
That management layer means that you have more than just a "point to point" integration between two systems – it means you have a fully managed automation service. You can see what's happening in real time, make changes on the fly, and fix any problems without having to go into code.

 The NMLinK system has proven pre-built links to hundreds of third party applications such as: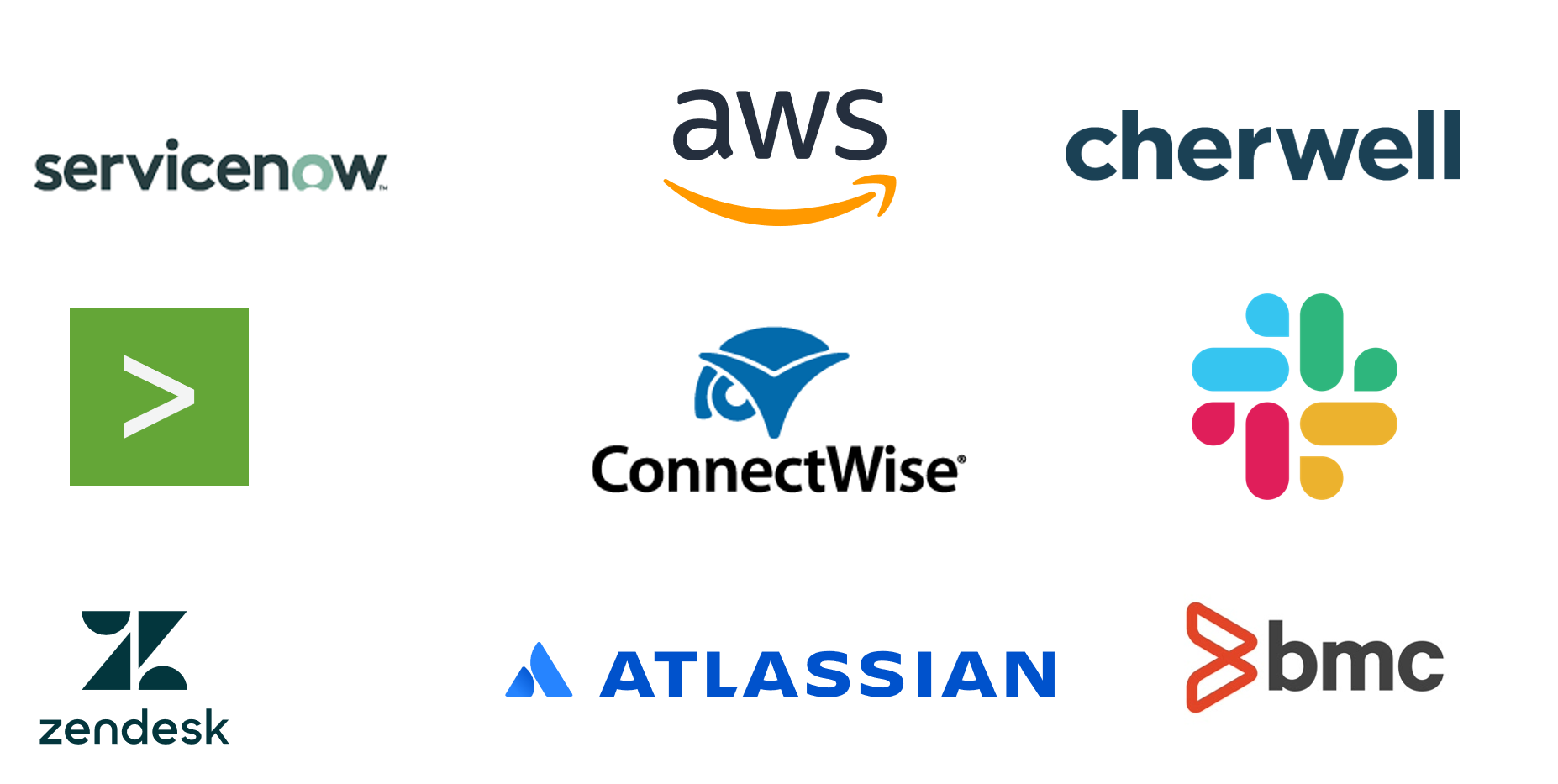 ASK US TODAY ABOUT ANY INTEGRATIONS YOU MAY NEED
Finally get the "Single Pane of Glass" for all of your important data
Do you want to surface data into a 3rd party BI system like Tableau, Microsoft BI, SaS, Grafana or more?  If so, NMLinK can help. We have already done the hard work of creating a powerful data acquisition engine, which means you don't have to spend any time trying to extract the data from your underlying applications.  Once the data is in NMLinK it is incredibly easy to "Link" it to any other system or systems you want. Plus, everything is managed by us – which completely removes the burden from your team. 
So what would this do for you? Would you like to have a single portal or dashboard that you can quickly login to and see all of your critical data? Would you like to create a customer portal where clients could access all of the information they need to know about your managed offerings?  Things like:

NMS Data

Security Tool Data

Mean Time To Repair (MTTR) or other service desk related statistics

The ability to launch collaboration tools like Slack, MS Teams, Zoom and more

Inventory Systems, CMDB's, or other repositories of "truth" in the environment
NMLinK is the perfect solution for you!  We make all the "links" to the applications / data and then have a proven methodology to make that available to other tools to visualize and publish the data.  Or, we can publish the data within NMLinK – It's up to you.  Either way, you get all of the benefits of our decades of experience with Integration and Automation which leads to much faster project completion, sophisticated management and reporting of all integrations, a fully managed "no-code" system which you can use almost immediately.  Best of all, we know that we can save you both capital and operational costs on these projects.
Use Cases
With NMLinK the possibilities are nearly endless. However over our decade + experience delivering automation to some of the largest global organizations, we have found some universal use cases.  NMSaaS can deliver these use cases and more very quickly using our proven methodology.
IT Monitoring Application to Service Desk(s) Integration

CMDB and IPAM Population and Management

Front-End Portal to Existing Automations

Custom "Single Pane of Glass" for Legacy Applications
Enhanced Device Support

These days many device vendors are not fully implementing traditional management protocols like SNMP, but are rather providing inventory, configuration, and performance information via an API.  NMLinK helps bridge the gap between these devices and your existing NMS.  With NMLinK, we pull the key information from the devices, store that information in a data table, and then "push" it into your existing NMS such as NMSaaS or SolarWinds.  We support many major vendors including:
Viptela

Meraki

Ubiquity

VMWare

and many more…
Learn More About NMLinK

Check out our webinar video on NMLinK and what it can do for you.
What Else Can You Do With NMLinK?
NMLinK has been used to solve many challenges for our clients.  Here are just a few examples of what Managed Automation as a Service can do for you.
Created a simple user interface to initiate a new user on-boarding process.  We provided an easy to use web based "wizard" which then delivered all of the required information about the   user to the back end processes.  This reduced the average time to onboard a new employee or client by up to 90%.

Connected an Inventory Database with both the Enterprise Monitoring System and a 3rd party IPAM solution.  This reduced the manual effort that had ben required to keep these disparate systems "in synch" within one MSP by over 50%.

Automated cloud system roll-outs for an MSP.  NMLinK converted the "dead tree" runbook process for provisioning new cloud based systems to a 100% automated system which completely eliminated common (human based) errors which had been occurring on a regular basis.